The first Band….'Country Rain'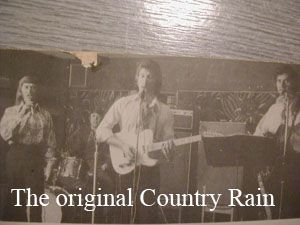 I met Brian Duggan in Watford. A mutual friend had told me that Brian was a good singer and excellent guitarist and wanted to form a Country band. We hit it off immediatley and did a few gigs as a duo 'Country Rain', then enlisted Roger James on drums & harmony. Dennis Fullerman joined us (temporary, as he lived too far away from our main gigs & didnt want to travel) on lead vocals and we worked the pubs, clubs and country music venues around the London & Hertfordshire area. We all had full time jobs and we were happy just playing at the weekends. A friend mentioned that someone he knew had just quit the band he was with and was looking to form/join a country band and he "was a brilliant country singer!
We invited Haz Eliot along to one of our gigs for a 'meet' and eager to hear what he was like, got him up to do a couple of songs. Haz's voice knocked our socks off! So 'Johhny Cash', deep, rich and powerful. We asked Haz to join the group, which he accepted and we started taking bookings for the new 'Country Rain'. Dennis decided to leave following an offer from another band closer to his home in South London, which we understood completely. 'Country Rain now consisted of, Haz on lead/harmony vocals & guitar, Brian on lead/harmony vocals & lead guitar, Roger on drums/harmony and me on lead/harmony vocals & bass/rythm guitars. We quickly became a very popular Country band and although still semi-pro, played at country venues from Surrey to Reading often returning to our homes just in time to have a wash & change before going to our respective jobs!
We were doing more and more shows as our popularity grew and various Band agencies were showing interest in booking us for their venues and tours. With the commitment to a good job and career, Roger left and was replaced by Derek on drums and we accepted our first proper 'Tour'. I suppose, thats when we turned professional (even though we had jobs to go back to!) The tour was for 28 days, playing every night at Country Music clubs. The first night was Evesham followed by Cheltenham,Bristol,Crediton,Tavistock,Dunchiedeok,Callington Honiton,Exeter, Newton Abbott, Liskeard, St Blazey,St Austell,Bodmin,Hayle, Helston and various other venues 'slotted in' as the tour progressed.
We entered the talent show 'Opportunity Knocks' and came 2nd ( we could have won it but we didn't want to sign up to 'their managment!)
Marti Caine.
We also entered 'New Faces' and won the 'Viewers Vote' but came 2nd to Marti Caine in the finals. I bumped into Marti many years later and she was the same old Marti, down to earth & friendly. Fame hadn't altered her one bit! Lovely Lady. R.I.P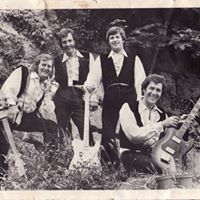 'Country Rain'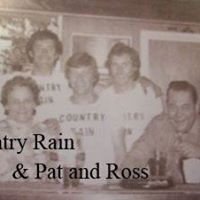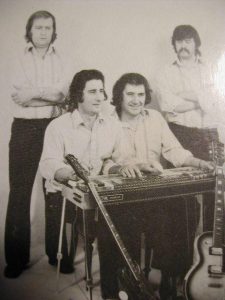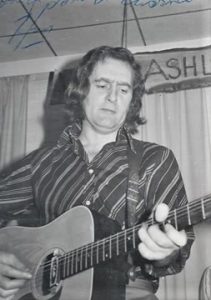 'Country Rain with Pat & Ross                                   'Haz Eliot with Feeling'                                        Haz Eliot.                             Brian Ramsey-Goudie 'King'
in The Cornish Arms, Cornwall
We made our base, when in Cornwall at Pat & Ross's 'St Blazey Arms' as it was reasonably central for that part of the tour and a very homely, friendly and cheap B&B! When we arrived back from a gig in the early hours, Ross (who was potty about country music!) would get us a drink because he knew us 'muso's' wouldn't pass up the chance of a late night booze up and he had an excuse to get his battered old guitar out and twang away at it knowing full well that one of us (in desperation!) would play and sing along with him!These sessions' went way into the early hours of the next morning and dear long suffering Pat would give up nagging Ross to "get to bed, you silly old fart" and disappear upstairs mumbling under her breath "Tis a wonder why dun e' piss off and join a band me luvver, you keep the same bloody hours and drink like a bloody muso!" Ross however was in his element! and used to say "right me 'ansome, I'll play the easy stuff and you put the shit in! He meant he would attempt to play the background chords and one of us would play lead guitar! Man of a few words was Ross, God bless him. In the morning at breakfast, with us all suffering from tiredness and massive hangovers, Pat would be in the kitchen, singing away at the top of her voice, smacking the pans down and closing the oven door like someone shutting the hatch of a Sherman Tank, totaly oblivious of our poor heads! I have never heard to this day, someone make Sooooo much noise cooking bacon & eggs!
We did many tours of the Southwest and made a lot of friends and fans who used to travel miles to see our shows despite having seen us a few days earlier at another venue! One of our dearest and valued friends was Jeanie (Grotty Knicks) Mills who later became our main Booking Agent in the Southwest. More about Jeanie later! watch this space!
We embarked on several tours of 'The Northern Club Circuit' and it became obvious with the amount of bookings coming in that we could now afford to 'turn professional' Brian Duggan and Derek left due to family and work commitments and were replaced by Brian (Punch) King on Steel guitar and Kieth Clarke (Duval) on drums. From the first rehearsal Haz & I knew we had a winner! The four of us 'jelled' and produced a country sound that was far different to any we had heard before. ( or since) To use a steel guitar as a lead instrument instead of the usual lead guitar was unheard of! Brian was a brilliant and very competant musician who could also play a 'wicked' lead guitar( Brian was the lead guitarist on Johnny Kidd & the Pirates hit single 'Shaking all over' ) and had an excellent singing voice, especialy when he did an uptempo rock song! There are two of Brians self penned instrumentals on the album, 'By Demand'… Boy oh boy! Could he play that steel guitar! Fuzz Steel & Feeling Steel are classic country tracks! Kieth, was just Kieth! mental as a box of chips, had a wicked sense of humour, but had a serious side and was a great drummer. We created onstage a very good show complete with adlib comedy that just seemed to flow naturaly and have the audience in absolute hysterics and yet we could create an atmosphere and silence among the audience, whilst performing one of Haz's heart wrenching songs.
The awards came in steadily: Best Touring Band :Top British Group: Top Band: Best Country Band. Top Group , Wembley Festival Of Country Music: Top Country Band Southwest: Best Northern Circuit Band: Overall winners Wembley Country Music Festival and both Haz & Terry picking up Best Male Singer awards the same year!
The bands name was changed to Haz Eliot with Feeling to obtain more cabaret work. ( as soon as we mentioned we were a 'Country & Western' Band, out came the straw bales, Gingham skirts and cowboy hats!) That wasn't what our music was about. We had developed our own unique brand, style and sound of country music. It certainly worked! we started getting work on The Cabaret Club Circuits and TV and Radio shows became a regular occurance with appearances on ITV's 'The Twiggy Show', Country Club and various Local TV & Radio Shows throughout the UK & Europe.
Twiggy 1975 Taking Part: Twiggy, Haz Elliot With Feeling, Michael Whitney, Roger Cook, The Irving Davies Dancers, The Ladybirds Producer: Brian Whitehouse Twiggy's Contribution: Bargain Store · The Fantasticks – Soon It's Gonna Rain / Try To Remember (with Michael Whitney) · Help Me Make It Through The Night (with Haz Elliot With Feeling) · Guess Who I Saw Today? · In The Mood · That's The Way I've Always Heard It Should Be (with Roger Cook) · Ben Transmission: BBC 2 · December 3rd, 1975
             The Twiggy Show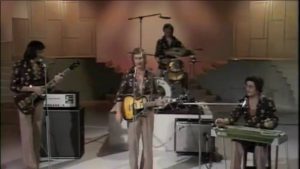 In 1974 the first album was released. 'Haz Eliot with Feeling'…. 'By Demand' followed in 1975 and the single 'Annie ( do you Know) / 'With Pen in hand' was recorded at Joe Browns Studio produced by Dave Peacock ( Chas & Dave) Joe and Dave can be heard on the backing vocals. Dave & our 'steely' Brian were the only 2 in the studio who could reach the very high notes ( without some severe 'squeezing' of a certain part of a males anatomy!) Haz, Joe & I had noooo chance ( all 3 of us having deep gravel voices!) Kieth had a go, but when he caused the next door neighbors dogs to run up the road howling, we stopped him!
We received a phone call from Clodagh Rodgers father, 'Lou' who wanted to book us for various tours in the UK and Europe supporting or backing USA Country Music Stars whom he was flying over from the USA for tours and also appearances at 'one nighters' in various USAF bases all over the UK. Lou was a lovely Irishman with a twinkle in his eye and a chat up line that could charm the birds out of the trees, despite being 70+! We loved Lou dearly, but had to be a bit tough with him when he tried the 'Irish charm' on us to get us to do a gig or tour 'cheap! Kieth Clarke ( Duval) left the band to pursue a career in the theatre and we brought in a young 18 year old drummer Joe' who was an absolute 'star' on the drums. This guy was brilliant! His drum solo's were one of the most requested 'parts' of our stage show. More about Joe later.
Lou booked us for UK & European Tours with USA Country Music 'Stars' either as a backing band or on the same bill. A typical tour was a month + with every date filled. Sometimes the tour would start in Scotland and then move down to gigs in Barrow in Furness, Birmingham, Coventry, Leicester & London, then across to Shape ( Nato) Base in Brussels, or a flight straight into Rome to perform for the USAF at the large Airbase just outside Naples. More often than not, we then continued the UK part of the tour in London moving on down to Devon and Cornwall. Some of the artist's we toured with were, Marvin Rainwater, ( who had a massive hit with 'Whole lotta woman' among others) Jo Anne Steele, a great singer from Nashville (who had starred in several films with Waylon Jennings, Marty Robbins & Faron Young to name a few.) Billy Armstrong ( Nashville's multi award winning Fiddle player) and Jimmy Lawton from Tennessee. ( we did a few tours with Jim and he never ceased to amaze us with his sheer talent, not only was he a great singer but could play a 'mean' guitar!
One of the saddest moments in my musical 'life' was when Haz had a few problems and decided to leave the band. There were other circumstances which effected us all, constant touring, families relationships, finances etc and although we maybe could have sorted our problems out, decided to 'call it a day' I will mention at this point a major contributor to the breakup was our manager whom I shall call Dave M. He had complete control over our finances, record sales, t-shirts etc and I became a bit suspicious as at the end of one tour, our wages were far less than expected. I confronted Dave M with the rest of the band and demanded to see our accounts books. We met in a club car park were he threw the books at me and I went through them. The rest of the band, I must admit, were not too happy with my request at the time, but when I had had a cursory look at the accounts and discovered the extent of his 'fiddles' they were furious! Needless to say, he was sacked on the spot! He had 'done us out' of a lot of money! We carried on for a while after this episode, but I believe the heart had gone out of the band and it inevitably broke up.
Haz was out of the business for a while, but eventually went back on the road as the lead singer with Culpepper County. Joe became a session drummer and played on many of the well know pop stars records of the '80's. Brian I lost contact with, but did hear that he was working with some famous names as a Steel/Lead guitarist. As for me, I headed down to Cornwall to join Frank Yonco & The Everglades.
I Joined Frank Yonco's Band, 'The Everglades' as a Singer and Bass player and really enjoyed working with Frank who was a superb entertainer. I also really enjoyed working with some fabulous musicians during my time with Franks Band. Steve Turner, Steve Jackson, Tim Collingwood, El Imber were all awesome musicians.We went on New Faces but got knocked into 2nd place by Lenny Henry.  My time with Frank was enjoyable, but I yearned to get back to writing and recording my own songs, so left Franks Band and formed 'The Misty Dream Band' with El Imber also from Franks band.