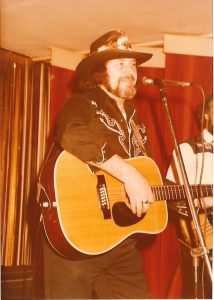 Where did my entrance into British Country Music start ? Blame Jed Ford! I had, for a number of years played with various well know 60's rock bands and solo artists as a 'dep' musician/backing singer and studio session musician. I wasn't impressed by the 'yeeeha! 'grab your partners swing 'em round', straw bales,cowboys, gingham dresses and wagon wheels that, I believed 'country & western music was all about!
Jed was a major British Country Music 'star' for many years and had a massive following and his shows were always 'standing room only'. Jeds 'flamboyant' attire ( he had his stage suits handmade with material obtained from an Indian Sari shop! ) and his abilty to command an audience kept him at the top of his profession for years.
I lodged with Jed for a time and one night Jed asked me to 'dep' for a bass player in his backing band who had gone down with the flu. I went along with an open mind to see just what this music was all about and I needed the money! The 'gig was in a massive marquee somewhere near Cambridge and when we arrived the Show was in full swing, the marquee was packed to the the rafters, the opening band were playing a gutsy 'bluegrass' number and sure enough, there they were! The yahoooo! 'cowboy' fraternity, resplendent in full Cowboy outfits, boots, western shirts and with holstered guns,careering across the dance floor in a 'hillbilly prance' with their petticoated, gingham dress 'cowgirls'!
Oh bloody hell! what am I doing here? Oh well, I'm here now, so make the best of it and earn my money. I had a quick run through with Jeds backing band and took my place on stage ready for Jeds entrance. "Ladies & Gentlemen, please welcome on stage, Mr Jed Ford! The audience went wild! I had been on stage many times and experienced the screaming girls at the appearance of some of the 1960's Pop and rock stars, but didn't expect the same reaction at a Country & Western gig! Needless to say, Jed did a fabulous show for an hour & a half and after 4 encores, decided to say goodnight. I came off stage still 'buzzing' at this new musical experience and not so complacent that this 'C & W' music was easy to play and not just a '3 chord shift' as I had imagined. I 'depped' for Jed many times and also sat in with other country bands and began to enjoy the music, though still not convinced about the 'Cowboy' aspect!