Where do I start ? So many stories and situations that had us in fits of laughter and were passed on around the 'country music circuit' for others to enjoy.
 Haz Eliot with Feeling'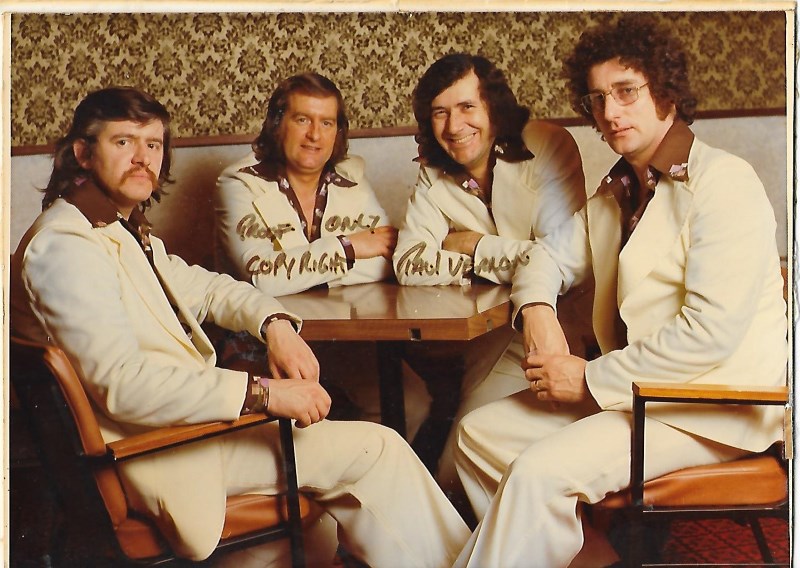 HAZ ELIOT WITH FEELING.          Kieth Clarke-Haz Eliot-Terry Dean- Brian King
There was a great closeness and friendship between bands and agents at the time, where we all would help out a fellow musician in need of an amp, guitar string, strap, drumstick, transport or at times, if one of their band members went down sick, a musician from another band appearing at the same show, would 'stand in' rather than them loose their fee by not being able to perform. It was not unheard of for a band to drop their equipment at the gig and drive out to rescue another band who's transport had 'died' on route. Such were the friendships formed.
If bands were working in the same area, we used to arrange to meet up at the closest Motorway Services after our gigs and 'chew the fat' swap stories and have a very social coffee together. At one such night (1.30am) my band met up with two other bands and as was normal, 2 'muso's went up to get the coffee's and carry them back to the table on large trays ( takes a bit of carrying, does 12/15 cups!) Halfway across, one of the 'carriers' missed his footing and went spread eagled across the floor scattering the drinks everywhere! To make matters worse (unbeknown to the two other bands) this unfortunate 'muso' wore a syrup! (wig) which on his impact with the floor, scuttled off his head and proceeded to move across the floor like a demented rat! I swear, we were still in fits of laughter 20 minutes later! He was renamed 'rathead' and as far as I know, is still referred to as that!
JEAN MILLS
Right! Jeanie Mills 'payback time! Jean has been a very dear friend and agent for around 30 years, but has been known to have a little 'tipple' on occasions and let her hair down. On one occasion, at The Rainbow Rooms in St.Blazey, Cornwall I had been practicing a 'rift' on lead guitar ( bear in mind I was a Bass & rythm guitarist and had hands like a bunch of bananas!) Millsy, unbeknown to me, had organised that when my 'moment' came for the first time as 'lead guitarist', everybody would walk out of the club! My moment arrived! I started into the lead rift. First the whole audience left, followed quickly by the bar staff, cloakroom attendants and doorman and then my fellow band members! There I was on stage, alone in a completely empty club! I didn't know whether to laugh or cry, but as I thought they were trying to tell me something, never attempted to play lead guitar again! Millsy 4… Deano 0.
Millsy had a mate, Jean ('potty') Potter who was a fan of the band 'Apache' and also liked a swift 'tipple' When these two got together anything could happen! We had a gig in Par and these two ( having supped a few beverages!) came out on the dance floor with 'score' boards and each song was met with the raising of the boards with the scores for our performance, what I didn't know was on the back of these 'score cards' ( so the audience could see, but not me) was slogans ie: "Deano, son of Yonco" "Save your energy girls, Deanos gay" and other comments! Millsy 2….Deano 0
We played at the famous Nashville Rooms in Hammersmith, London and the landlord Charley introduced me to a drink consisting of Brandy & Babycham. After 3 of these concoctions, I was as drunk as a mattress and had to spend the night sleeping on the settee in Charlies bar and drive home in the morning! I introduced Millsy to this drink, who thought 'this was a bit 'moorish' and proceeded to down them like lemonade! God, did we have trouble getting her out of the club! She thought she was going out the exit and landed up in the cloakroom, got in the wrong car, fell in the bushes and wanted to snog the face of us all! Jean has never forgiven me to this day for introducing her to that drink! Deano 5…Millsy -0
My dear friend and drummer for many years Dave Fidler (Wayne) , Jean, Malcome & myself went on holiday to Portugal to Daves timeshare Villa. We all needed the break and one night went to the bar on the Complex as there was Brazilian Dancers headlining the bill. Millsy went on her Brandy & Babycham, quickly got 'squiffy' and ended up on the dance floor with a half naked male dancer, performing an erotic, hip writhing dance! ( something you dare not take your Mum to see!) Now, I wouldn't show that, would I?……. would I? You bet your life I would! Payback time Millsy! Deano 9…..Millsy 0
Now, I must admit the next story I have difficulty recalling (er,hum) apparently my friend of many years and fellow country music artist, Rusty Douch and myself after a gig in Fulham/Hammersmith…well, somewhere that way! decided to 'sink a few bevvys' We apparently got so drunk and disappeared 'out on the town' that our respective bands thought we had already left and promptly drove home without us! At 3am Rusty and yours truly were crawling on our hands and knees along some deserted main road heading for home! Now WOULD WE get that drunk ? Nah 'tis a lie made up by someone who wanted to get you to believe us 'muso's were P***heads! Ask Rusty!
COUNTRY RAIN & HAZ ELIOT WITH FEELING
In the early days of Country Rain we played several gigs on Farms, complete with large trailers as our 'stage. On this particular occasion, the trailer was decked out with straw bales (yeah, I know!) and the organisers had put up a cardboard wall as a back and side drop, gaily decorated with a desert and cactus scene (groan) Enter drummer Kieth Clarke who was 'standing in' for the night. The first set was great! Kieth fitted in real good. After the break Kieth walked up the steps, tripped over his bass drum leg and disappeared through the cardboard wall! We offered him the job as full time drummer, providing he kept it in the act! (didn't like that bloody 'cowboy wall' anyway!)
A new rule concerning 'wind!
Because of the close proximity of 5/6 'muso's' and accompanying fans/roadies etc in our beat up old Transit Van, the 'expulsion of wind 'was prohibited in 'said' van! This was normally ok on the way to the gig, but coming home after a few beers/fizzy drinks (for those of us who had to drive) coupled with burgers or fish, chips and mushy peas, was a disaster waiting to happen! I invented a 'wind code' so fellows travellers could be forewarned of an impending nasty smell! A 'Humphrey Bogart' was noisy but not smelly, An 'Apple Tart' was noisy or quiet with a combined wiff of a dead rat & eggs, An 'Ermitrude' was the occasion for all ( except the offender) to vacate the van and walk around for a while in the clean air until the van was totally clear of the health hazard! This 'code' was adopted by several bands and on the occasions we met up 'on mass', regular shouts of "Humphrey or "Apple Tart" could be heard! Windy lot us muso's!
Charity 'Gig in a Service Station 2am!
As the bands often 'criss/crossed' whilst working Country venues in the same area, we used to meet up in the Service Stations and swap muso' stories/ venue etc. One early morning the guitars came out and a combination of 3 bands entertained the bleary eyed travellers. The hat was passed around and we raised £65 for the local charity.
Mick Colley.
When 'Haz Eliot with Feeling' won Top Group Award at Wembley Festival, we only just beat a well established and well respected band called 'The Mavericks'. We knew of them because, like most of the other bands, we all worked the same clubs and this band had a reputation as a very professional band, which preceded them. This band was excellent and I guess we were just lucky on the day to beat them. I knew of their singer Mick Colley and after the contest, lost touch with Mick and the band. I had moved to Cornwall and had a little shop selling secondhand musical instruments etc, a guy walked in and asked if he could try out a guitar I had. I thought "I recognise you" ( he was thinking the same thing!) We both twigged at the same time! It was Mick Colley, nearly 20 years had passed and he happened to walk into my shop! Mick had recently moved to Cornwall and never realised I had moved to St Austell many years ago. Mick joined the band and we often talked about the 'old country days' and that 'I should write a book'. Well Mick, here it is mate, I am sure it will jog some memories and if any of the old bands get in touch, I will pass it on. Mick was a great asset to the band as a lead singer and as a musician. Mick devotes a lot of his time to songwriting and used to include some of his songs in our stage programme. If you get a chance,listen to Micks, 'Bullfrog' a great song! Mick, like the late Haz Eliot, is a great 'wordsmith' and how he doesnt get published by a major label astounds me! Sadly, we lost our dear friend and fellow musician to Cancer a few years back. R.I.P Mick xx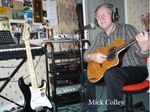 Mick Colley at work iat his Recording Studio
'Horsey, Horsey' HAZ ELIOT WITH FEELING
It was 3am and we were returning home from a gig. Kieth and Haz were 'on duty' driving ( we took it in turns for two to sleep and 2 to stay awake) Brian and I were asleep in the back seats of the 'trani' This Transit had 'porthole windows' in the back ( this is important to remember) I awoke from my slumbers, realising that we had stopped and that Kieth & Haz were missing. Thinking they probably stopped for a pee, I settled back down. With half opened eyes I looked through the 'portholes' ( like a circular TV screen) and saw Haz leading a horse by it's mane along past the van, followed by Kieth, also with a horse! At this point I have to mention that Kieth hated all animals and reckoned " If you can't eat them, their pointless! Haz however, was a brilliant horseman having ridden in Rodeo's and having worked with horses for some time. Slightly amused but now semi-interested, I watched (through the TV porthole) at yet another passing of the van by the horses. " come on horsey! says Kieth, in a subdued voice. Now Brian is awake and together we watch….Haz walking his horse passed the van, followed by Kieth, cursing and muttering at his 'horsey' Brian and I are now starting to laugh loudly. Haz found a gap in the fence ( from where the horse's had escaped earlier) and proceeded to lead the horse expertly into the field. Kieth however was shouting at the horse, " Horsey! get off me f…….g foot! (Now Brian and I are in a heap at the bottom of the van!) Kieth called to Haz ( having extricated his foot from beneath the horses hoof!) " I can't lead it through the gap by it's mane" Haz advises " Slip your belt round it's neck and pull, it should follow you" This Kieth did. Unfortunately, the horsey decided to 'gallop back' in the field to join it's mate and Kieth was left at the edge of the field with his belt on the 'horsey' and his pants around his ankle! It was then that the Police arrived! Me and Brian are having hysterics! The tears were rolling down our faces and even 'The Bill' found it quite amusing. One even cracked a joke " I've heard of sheep shagging, but not horse shagging, well, not in Waltham Cross anyway!
MISTY DREAM BAND AND 'VIRGINIA'
Lou Rodgers had booked the band for a month long tour with a up & coming USA singing 'star' called Virginia K. (surname withheld to save the lady any further embarrassment!) We met Virginia and her 'Manager' at a very big country music venue in Scotland, which was the first gig of the tour. This attractive lady certainly had country potential' and we looked forward to the rehearsal. Virginia gave us copies of her 'running order' The band looked started to panic as we looked down this list of 'pop songs! Now our first gig was at a serious Country Music Club and we would get lynched if we played this'pop' music. I asked Virginia if she knew any old classic country songs, she knew 'Torn between two lovers' and that was it! Her 'Manager' (erhum, yeah right!) said "she will go down a storm" (perhaps with you mate in the bedroom, but not with a 'country audience!) We spent 4 hours teaching Virginia country classics, Jambalaya, Cheating Heart, Act naturally etc etc in a desperate effort to 'make some kind of a show' Virginia had a really good voice ( for pop music) The band took the first spot and were well appreciated. The 'Manager' had asked if we could do a couple of the more acceptable 'pop' songs and we agreed knowing that with the harmonies, we could probably 'get away' with a country 'slant'. Virginia was introduced and went in to Torn Between Two Lovers, followed by Your Cheating Heart, Jambalaya, one of her pops songs, another pop song,ANOTHER Torn between Two Lovers and said goodnight!! We stood there absolutely dumbfounded! We took a hasty break and I went back to the dressing room, where Virginia was already out of her stage outfit and ready to go! Her 'Manager' said " This is not Virginia's type of show, so we are going on to the Hotel at the next gig (Which was in LONDON!) and we will meet you there in the morning for a rehearsal" I explained ( when all I really wanted to do was throw this pratt out of the door!) that Lou had booked Virginia for a one month Tour of the UK at Country Music Venues and he had represented her as a 'Country Music' singer, when in fact she was a 'pop' singer. Lou had paid the Air Fares and all accomodation for both of them and I was to pay them after each gig the fees. The Manager' asked for the nights fee (cheeky git!) to which I replied, "Sure, but Virginia has to get back on stage and fulfill her contract" ie: a one hour performance (she had done 22 minutes!) The "Manager' was not prepared to do this and left with a very embarrassed Virginia in tow. By now the organiser was backstage in a panic, as he had sold 500 tickets and had no 'Star' The band went back on and I explained the situation and tried to salvage the evening with the band doing a 2 hour non stop show. It turned out a good evening and everybody had a good night in the end. Needless to say, Virginia's fee was deducted and a part refund was given back to the audience. (some insisted that it went to the Band, but we declined) We had many return dates at the same club in our own right and always had a good night there. I rang Lou later that night and explained what had happened and Lou said he would try and get in touch with Virginia ,regarding the London gig the next evening. We drove down to Wood Green,  London and arrived around 1pm, ready for rehearsal with Virginia and was met by Lou who informed us that "They had flown back to the USA early this morning" Lou had been in touch with Jimmy Lawton (who we had toured with many times and lived in Belgium) and Jimmy had agreed to take over the tour, but wasn't too sure what time he would arrive at the evenings gig. We arranged to do a long first set, just in case Jimmy didn't make the start of the gig. The venue was packed to the rafters! The audience had been told of Virginia's 'non show' and that Jimmy Lawton was on his way ( Jim was extremely popular at this venue) The show was going very well, the dance floor was packed and everybody was eagerly awaiting the arrival of 'The Star' The Club door opened and Jimmy Lawton walked in with his guitar ready for action and shouted, "Deano, Two Less Lonely People" The band struck up and Jimmy (playing guitar and singing!) walked down the hall, up on to the stage, kissed me on the cheek! ( bloody old perv!) and belted out this fabulous song! The audience went wild! We had a fabulous night and a fantastic tour. The guy was a true 'star' and I learnt a lot from Jimmy. I later recorded this song and it has remained one of my all time favourites. Sadly, we lost Jimmy in  April 2017. R.I.P. my very dear friend.
Joe 'The Drummer'……As I mentioned before, This young 'brilliant' drummer was brought into the band to replace Kieth and being the 'baby' of the band, we forgave his occasional lapses into drunkenness ( I hasten to add AFTER we had completed our show) One evening in the USAF base near Naples, Joe asked the barman for "the strongest cocktail you have" Now, at this point I must mention that the rest of the band had 'sampled' this 'barmans special' on our last visit and after just two, didn't know what planet we were on!) The barman gave Joe his 'special' which he enjoyed, 'downed' his second and asked for a third. Being the 'doting parents,' we advised Joe to " take it easy". Joe ( in his naive innocence and eagerness to be like 'us grownups') ignored our warning and had a third,a fourth and then a fifth of these dubious and lethal concoctions! All was fine for about 20 minutes and then 'the specials' hit Joe fair & square! He went glassy eyed, stared like he had just been hit on the head with a hammer, gently slid off the bar stool and ended up in a crumpled heap on the floor without uttering a sound! The barman looked over the bar and said " That's the first time any one has had more than three of my specials!" We put Joe to bed and when he 'surfaced' the next day around 4pm, was a drunk as he was the previous night! Fortunately, we didn't have to be on stage until 11pm, so we had time to 'pump' Joe full of black coffee before we went on. When Joe walked into the club, the GI's who had witnessed Joe's marathon 'specials' episode, applauded him! " I wasn't drunk, you know, just tired" Joe says. Yeah right! (We did notice that later that evening Joe was drinking chandy and refused two free 'specials!)
THE PRESS.
We never were favourites of the 'Country Music' press, basically because at that time,we were not a 'conventional' "grab your partner's swing um round' hay bales, gingham dress, Cowboys & Indians, 'Gun fighters backing band! '  Following a gig in a Leicester Country Club, Joe had a few too many beers and proceeded to accuse me of something I had not done. He kept 'niggling' away, despite my warnings to 'cool off ' Brian & Haz had also warned him that he was very close to me loosing my temper and 'slapping' him. Now, it takes a lot for me to 'loose it' but Joe in his drunkenness, kept on and on and on that eventually I lost it and swung a wicked right hook at him! In his eagerness to avoid a visit to the hospital, Joe leapt back, bumped into Haz, who in turn bumped into a table of glasses and suffered a mild cut on his back. The headline in the Country Music Press read, " Haz Eliot stabbed in band fallout!   creative writing Eh!
Haz, our agent Jeanie and myself were driving through St Austell High Street, when Haz opened the car window and screamed at the top of his voice " Help me please I'm being kidnapped!" Jeanie was trying desperately to shut him up and only added credence to the 'kidnapping.' It was weeks before Jeanie could show her face in St Austell!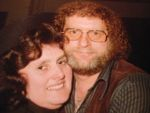 Our Agent Jeanie & Haz
Lou booked us out on a short tour with an American singer Don H, who had had his problems with booze & other substances in the past, but according to Lou, "was clean and straight and was on his 'comeback" We met Don at the Shape Airbase ( Nato) in Brussels and after the introductions, arranged for a rehearsal later that afternoon. Don showed us his programme and we went into the first number. OMG! Don had a fantastic voice! Don's programme was modern & fresh and we fitted in musically very well. He also played guitar as good as Jerry Reed! Brian & Don did a duet on 'Little Green Apples' that just blew us away! Their voices complimented each other soooo well. The club was packed to the brim and when we had completed the opening set, introduced Don onto the stage. Don's performance was 'magical' and when Don & Brian performed their duet, I thought the audience were never going to stop applauding! The evening was a massive success and we all came off stage 'buzzing.' The show the next evening was the same and we looked forward to the rest of this short tour with eagerness knowing that we were playing at some of the biggest venues on the UK circuit and Don would go down a storm! We arranged to meet up the next morning for breakfast and leave for the Airport around 11.30am. At 10am, having called Don's room twice and he had not appeared, we started to panic. Don had not shown up for breakfast or answered our calls, we checked his room and he was not there although all his clothes and guitar were still in the room. The Doorman said he had seen him go out earlier and we assumed Don had gone off to the shops. It was fast approaching 11am by now and we HAD to leave soon to catch our plane. Don then appeared in the Hotel Foyer sooo drunk that he fell ( but managed to hold on to his bottle of Jack Daniels!) to the floor in a heap. We managed to get Don up to his room, but alas, with all the booze, plus we suspected, 'substances' which he had obviously obtained, whilst on his 'shopping trip', he was totally 'out of it'. I rang Lou, who told us to get the plane back and get to the venue and he would sort something out. Lou eventually sent someone out to Brussels to collect Don and bring him back to the UK. The last I heard of this extremely gifted and talented man, was that he was repairing guitars for one of the major guitar manufacturers. What a waste. Don had it ALL but it threw it away. I would have given anything to have just an ounce of Dons talent. Such a shame.
LIKE MOST COUNTRY BANDS AT THE TIME, THE FAVOURED METHOD OF TRANSPORT WAS 'THE TRANNY' FITTED WITH AIRCRAFT SEATS. OURS WAS MAINTAINED BY BRIAN ( I DIDN'T KNOW A GEAR STICK FROM A DIPSTICK!) AS I RECALL OUR 'TRANNY' WAS OUT OF ACTION AND FROM SOMEWHERE WE HAD OBTAINED 'TEMPORARY TRANSPORT THAT HAD A SIDE SLIDING DOOR, WHICH OCCASIONALLY WOULDN'T CLOSE PROPERLY. WE WERE AT THE HIGH CHAPARRAL CLUB IN HAMPSHIRE AND AFTER THE GIG, HAD LOADED THE VAN AND WERE ABOUT TO GO BACK INTO THE CLUB AND GRAB A SARNY AND COFFEE BEFORE THE LONG DRIVE HOME. AS I WAS THE LAST ONE AT THE VAN, I ATTEMPTED TO CLOSE AND LOCK THE SLIDING DOOR. NEEDLESS TO SAY, IT STUCK! I PUSHED, PULLED, SWORE AT THE BLOODY DOOR AND IN A DESPERATE ATTEMPT TO CLOSE IT GAVE A MIGHTY PUSH BACKWARDS AND THE BLOODY DOOR FELL OFF THE ROLLERS AND LANDED WITH A MIGHTY CRASH ON THE FLOOR! HAVING MADE SEVERAL UNSUCCESSFUL ATTEMPTS AT TRYING TO GET THE DOOR BACK ON THE ROLLERS, I WENT AND TOLD BRIAN WHAT I HAD DONE. HE RAISED HIS HEAD FROM HIS COFFEE CUP, LOOKED AT ME AND SAID QUITE CALMLY "PRATT! WE TRAVELLED HOME WITH THE DOOR HALF CLOSED, (NICE IN SUMMER, BUT A BITCH IN NOVEMBER!) MUTTERINGS ALL THE WAY HOME COULD BE HEARD FROM BRIAN ( WHO WAS DRIVING THIS ICEBOX ON WHEELS!) "PRATT!
TONY & ANDY'S 'PRANK!
ANOTHER VISIT TO CORNWALL.
 I WENT DOWN TO CORNWALL A COUPLE OF MONTHS BACK AND CALLED IN ON THE WAY TO SAY HI TO BOBBY G & HEIDI ( BUCKS FIZZ) BOBS BUSY PUTTING A MUSICAL STAGE 'ACT' TOGETHER WITH DANCERS AND A FULL SHOW. IT SOUNDS GREAT! TYPE IN BUCKS FIZZ AND SEE FOR YOURSELF! WE CALLED IN AT JETHROS NIGHT CLUB IN LEWDOWN AND SPENT A PLEASANT EVENING CHEWING THE FAT AND MESSING AROUND WITH THE GUITARS AND CAUGHT UP ON "WHO WAS DOING WHAT AND "DO YOU EVER SEE…" SHAME THE WEATHER WASN'T BETTER COS THE VIEW FROM GEOFF'S IS STUNNING ( WELL, IT WOULD HAVE BEEN IF WE COULD HAVE SEEN THROUGH THE BLOODY RAIN!
I INTRODUCED MARY TO MY MATES TONY & SUE AND AFTER A FEW PINK CHAMPAGNES, I TOLD MARY THE STORY OF WHEN TONY AND ANDY ( ANOTHER MATE) DECIDED TO SPARK UP MY 50TH BIRTHDAY PARTY! I HAD BOOKED A HALL AT PENTIRE SANDS AND INVITED A SMALL NUMBER OF FRIENDS AND BAND MEMBERS TO HELP ME CELEBRATE. DURING THE EVENING, THERE WAS A KNOCK AT THE DOOR IT WAS OPENED AND TO MY ASTONISHMENT THERE WAS 10 OR MORE COWBOYS, WITH THE FULL 'REGALIA' ON, CHAPS, GUNS , STETSONS, WESTERN SHIRTS, GINGHAM DRESSES ( THE LADIES OF COURSE) AND TWO MAGNIFICENT 'INDIANS COMPLETE WITH TOMAHAWKS, RIFLES AND FULL HEADDRESS ! TONY & ANDY HAD PLACED A NOTICE IN THE LOCAL PAPER STATING THAT THERE WAS TO BE 'A SPECIAL COUNTRY & WESTERN NIGHT WITH PRIZES FOR THE BEST DRESSED COWBOY OR INDIAN' ALL WELCOME' THEY HAD CONVENIENTLY 'FORGOTTEN TO TELL ME! AFTER SORTING OUT A VERY AWKWARD SITUATION AND FEELING VERY P………D OFF! I WENT TO LOCATE THEM (KNOWING HOW ANNOYED I WAS, THEY HAD 'DONE A RUNNER! EVENTUALLY THEY CAME BACK IN AND I TORE THEM OFF A STRIP, TRYING VERY HARD TO REMAIN SERIOUS AS THEY COULDN'T STOP GIGGLING! THE REST OF THE NIGHT I SPENT ANSWERING THE DOOR TO DISAPPOINTED COWBOYS & INDIANS AND WITH EVERY KNOCK TONY & ANDY COLLAPSED ON THE FLOOR WITH LAUGHTER! I SAW THE FUNNY SIDE OF IT AFTER A WHILE. SOME OF THE COWBOYS CAME FROM ONE OF THE CLUBS I PLAYED AT AND THEY CANCELLED MY BOOKINGS BECAUSE OF THE 'PRANK! I WASN'T THAT BOTHERED BECAUSE IT WAS CRAP PLACE TO PLAY ANYWAY! THEY LOOKED LIKE EX-BOXERS AND THAT WAS THE BARMAIDS! WHILST I WAS TELLING MARY THE STORY, TONY WAS IN FITS OF LAUGHTER AND I MUST ADMIT, I LAUGHED UNTIL I CRIED BUT AT THE TIME WAS NOT AMUSED!
Terry 'King' Hurren
An Update from Terry 'King' Hurren
Hi Mate Checked out you're web sight. Well!! I'm impressed I haven't finished reading all you're memories yet, but I will.
Well, since I last saw you I became very busy. With my plumbing & Heating. Country Music Also. Plumbing took off after I landed a few contracts, Before I knew it I was employing Loads Of so called plumbers, 27 at one time. Only 8 decent. What a headache!. But My relaxation was country music, My mates got me up to sing with a band, Which ask me to join them. They liked my Marty Robbins. So I bought loads of goodies, amps guitars etc, We changed the bands name from the Prospectors, To KING and Country. A legacy from YOU calling me Terry king, You sod. We did the rounds, but the travelling was too much while running a business. Then sadly the drummer died, So Dave, the lead, and I went out as a duo. By now I stopped plumbing and opened a plumbers Merchants. I had that for 16 years. I eased playing after a minor heart attack, nothing more than indigestion. so I slowed down, sold the business Bought a boat,
Then I got a phone call. Dave had given my number to, Mick, Do I fancy getting back on stage, Well does a Bear shit in the woods?.. so I did, and this is where we are now, W/mens. Royal/B,L. clubs.. I bought A Boss BR1180, recording studio, With CD writer, about ten years ago They're not fantastic, But Boy do they teach you to sing. So that was a good thing, I have done a couple of disc's. I would send you one if you promise not to laugh. So Mate I think that's My news for now, So glad you're O,k and Well.
Keep in touch, Talk soon. Terry..
Hi Terry, I have replied to you before now but for some reason it hasn't been forwarded to my new website. It was really great hearing from you. Glad to hear you are still out there playing buddy. I am in a Band and eventually, we will perhaps do a few gigs. My main thing now is recording originals, but I have to organise someone to show m,e how it all works! Hahaha. I would love to hear some of your CD's. Keep in touch.   'Deano'
THANKS A BUNCH GUYS!
Many years ago, I was involved in a bad car crash and after a spell in Hospital, was ferried home on crutches and with both legs heavily bandaged and plastered, to rest and recover. I had spoken to Haz on my return and made my apologies that for a while I couldn't do any shows and to get a replacement. That night, the doorbell rang and there was Haz and Brian! Before I knew it my gear was loaded on the van and I was carried by these two lunatics and plonked in the van on a seat that had been rigged up to accommodate my injured legs! Despite my protests to these two dipsticks, that 'I couldn't stand up and needed both hands on my crutches, so how the hell was I going to play the bass and sing', we drove on to the gig! "We have it all sorted Deano" says an unconvincing Haz Eliot! We arrived and I was 'transported' from the van to the stage door in a bloody wheelbarrow! All my gear was brought in and set up along with a tall stool and mike stand strategically placed at the right height. The brainwave was, that Haz & Brian would carry and put me on the stool, behind the curtains, so when the band was introduced, I would be ready to go into the opening number and thus continue with our 1st spot. It worked a treat! We did our first spot and the band left the stage…..Yeah! with me still perched on the bloody stool! The audience thought it was hilarious! I couldn't stand up unaided, so was at the mercy of the band, who by now had collapsed in fits of laughter at my predicament! To add insult to injury, they removed me from the stage in the poxy wheelbarrow! So I exited the stage in a very undignified way, to howls of laughter from the audience! B********S!
Chris…The 'Roadie! & Country Rain"
I have just made contact with Chris Taylor' who was our unpaid roadie and 5th member of the Band ,way back in the days when he was a teenager. Chris came virtually every where with us and we all thought the world of him. Chris was there running around after us and being part of 'the team' I am so pleased Chris managed to find me on U Tube and followed the 'trail' to my website. Here are a few of Chris's stories. Many, many thanks Chris and be sure to keep in touch! 'Deano'
Hi Terry
Sorry it has been a while I have been really busy as I am looking at a career move and am busy with a Pilots exam training.
Look at the picture of my wedding day and look who is on the left hand sid. He was a handsome sod, was Brian!
I was thinking about memories of the band and here are a few that you may wish to put on your site.
I remember turning up for a Gig at Mildenhall Airbase. First drama of the evening was when a Soldier in full US military regalia looked at me carrying 3 guitars and said "whats in there BOY ?" " machine guns and a Crossbow says me. " minutes later me and Haz up against the wall being frisked.Brian calmed him down and things could only get better (So we thought) You had disappeared, but got forgiven when you came over with the biggest Burgers we had ever seen! (Size of bloody dinner plates!).
Then Haz started his usual set and did a bit of comedy (Rude version of Ruby and that blues song about the toothbrush if you don't remember the words I can let you have them) They are forever imprinted in my memory Chris! 
Brian decides on a Diplomatic Break and we ask the barman why no one is laughing and we find out they are all Mormons over for a special meeting! A few Johnny Cash songs and so on and they were happy.
So just to round the evening off we ran out of Petrol in that bloody Volkswagen van.
Another night I remember well was a period when you seemed to keep getting things wrong (Lasted about four weeks and we all thought it was love or something)       probably was mate! lol
Anyway we went to the Queens Arms or Queens Head in Harrow on a pokey little stage.Brian had a mate taking Photo's for the bands portfolio and there was this brilliant shot where the Bull Horns on the wall behind the stage seemed to be part of your head.I wish I knew where that photo went.             I'm glad you didnt find it! lol
There was another time the band got on a circuit of Country venues and one was a club in Harlow I think. Well towards the end of the evening there was a ceremony of the Confederate Flag and they went on about 'the south's going to rise again'.
Brian commented that most of them had never gone further south than Basingstoke! We nearly got a good hiding for that.
Of course who could forget the night at Hydes Barn in Dunmow when Keith fell off that Hay Waggon!          Full story of that event is on the site.
There was also a night at the Golf Range when you tried a new Drummer and in the break Haz swapped his Drumsticks for Matchsticks. Needless to say he never got the Job.
It is fair to say I learned a lot in those days and you guys helped a Dadless teenager get through and learn a lot about Team spirit.              Chris, we all thought of you as the 5th member of the band mate and it was a pleasure having you on the gigs.